Blog
How Retail Businesses Are Leveraging Mobile Apps
February 27, 2023
Retail business and mobile technology are a natural fit. After all, there are over 7 billion smartphone subscriptions worldwide, with the number of users growing yearly. Many of these users utilize their devices to shop on the Internet conveniently and securely.
According to Insider Intelligence, retail mobile commerce sales hit $359.32 billion in 2021. The number is expected to double to over $700 billion by 2025 as more mobile phone users feel comfortable shopping through mobile apps.
In an increasingly competitive and evolving market, the most successful retail businesses are adapting to the proliferation of smartphones and the rise of ecommerce by leveraging mobile apps in different and exciting ways.
Retail businesses are leveraging mobile apps to offer convenience, more personalized shopping experiences, better customer service, drive sales and ROI (Return On Investment), and streamline their operations.
Let's examine how retail businesses are leveraging mobile apps more deeply:
1. Mobile Shopping
Mobile shopping is the most common way businesses are taking advantage of mobile apps to generate revenue. A good mobile shopping app offers customers convenience and security while allowing retailers a chance to generate more revenue at a lower cost than brick & mortar shopping. Here are some characteristics of a top mobile shopping app:
Excellent UI:

An

eye-catching interface design

that's clean and user-friendly is essential for a mobile shopping app. It should allow users to find the right products and services quickly and easily. Excellent UX design is also helpful for retailers interested in

acquiring and retaining

users.
Recommendations:

Retailers can use mobile shipping apps to recommend other products and servers by using

Machine Learning algorithms

to analyze a customer's purchase history and browsing habits. Personalized recommendations can encourage users to purchase more and raise a retailer's revenue.
Updated Information:

Retailers use apps that provide real-time inventory data, ensuring that customers have accurate information about product availability.
Push Notifications:

Users are three times more likely to engage with push notifications when the messages are personalized. Strategically delivered personalized push notifications from a retailer can encourage customers to redeem discounts, take advantage of events, and shop more.
Secure Checkout:

In addition to offering multiple payment options to mobile users, retailers must also invest in security to prevent fraud and customer data loss.
2. Brick & Mortar Shopping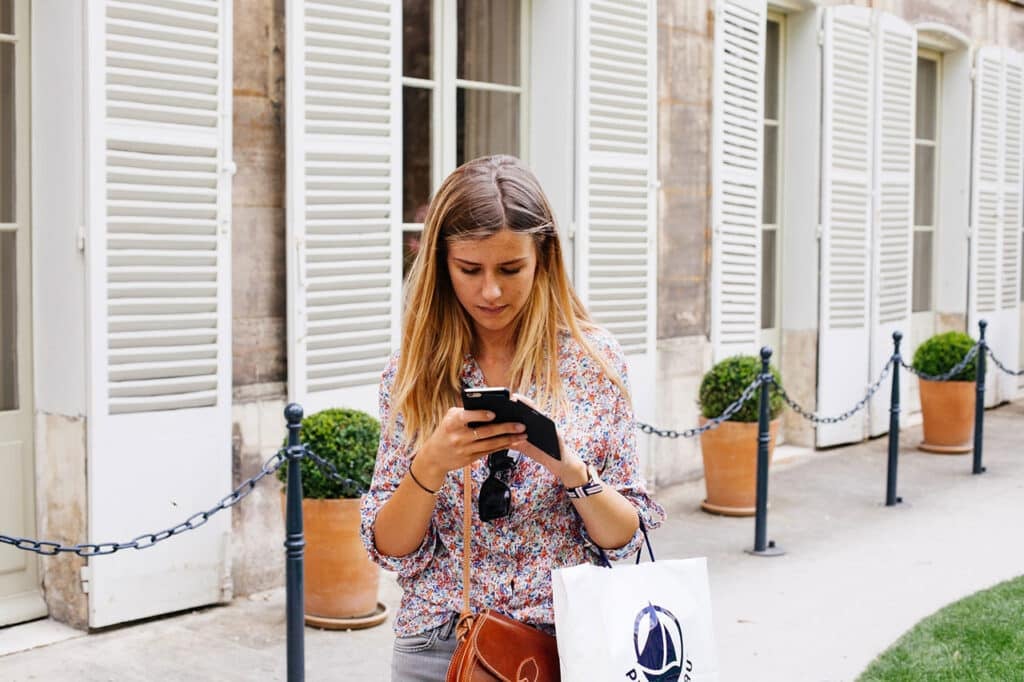 You might think that retail businesses are leveraging mobile apps to only take advantage of online channels, but mobile apps powered by the right technology are also optimizing the in-store shopping experience.
For instance, many retail companies are utilizing beacon technology in interesting ways. So, what are beacons? As a top mobile app development agency that loves working with beacon, we can explain how it works.
In a nutshell, a beacon is a type of location-based technology that employs tiny wireless devices to communicate with nearby mobile devices. Retailers can place beacons strategically across their stores to optimize the brick & mortar shopping experience for users.
Here are a few instances of how beacon technology can communicate with a client's mobiles software to deliver interesting experiences:
Personalized Marketing: Retailers can send personalized promotions and discounts to customers as they browse through the store. For instance, a notification may offer alternative products, coupons, or interesting incentives to users.
In-store Browsing:

Businesses can help customers navigate the store by offering directions or sharing locations of products by leveraging apps powered by beacon. Using these tools, businesses can reduce the workload on staff and help customers find items more efficiently.
Product Data:

Some retailers are empowering users by utilizing beacons to provide essential information to in-store shoppers on their apps, such as reviews, prices, features, and more.
Insights:

Brick-and-mortar stores can gain valuable information on the habits and preferences of in-store shoppers by using beacons.
Secure Payments:

Retailers can provide in-store shoppers with secure and contactless payment options with beacon technology.
3. Loyalty Programs
Loyalty programs have existed for decades, well before the birth of smartphones and mobile apps. Retailers have used loyalty programs to improve customer retention and sales and drive repeat business. Likewise, retail customers have benefited from loyalty programs by gaining discounts, rewards, and other incentives.
Nowadays, retailers are leveraging mobile apps to optimize their loyalty programs. Through mobile apps, customers can track their reward points and redeem them easily across a retailer or their partners. Retailers delivering reward solutions through mobile technology are also engaging with their users more efficiently by customizing programs to match the needs and preferences of the end user.
Ultimately, loyalty programs delivered via mobile apps are more efficient and engaging and can result in greater revenue generation.
4. Brand Recognition
Retailers can improve their brand recognition and loyalty through mobile apps that feature a design language that's consistent with their brand. Additionally, the apps must engage with customers, leave a lasting impression with special offers, and use targeted marketing. In other words, retailers can optimize their brands by developing mobile apps that leave a positive impression on their customers.
5. Customer Service
Retailers can solve a multitude of customer service challenges by leveraging mobile app technology. Through mobile apps, users can check the statuses of their orders, initiate returns, file complaints, and get help with products. By utilizing AI-powered chatbots, retailers can answer 95% of customer queries, reducing pressure on human resources.
For example, a user can instantly check the status of their order of a new mobile phone with a chatbot instead of calling their mobile retailer. Likewise, they can get basic technical support from a broadband retailer's mobile customer support system instead of reaching out to a human being.
Some modern chatbots are sophisticated enough to answer complex questions and advanced answers by using Artificial Intelligence and Machine Learning to crunch relevant data and deliver more suitable responses. Of course, chatbots are designed to direct users to human customer service representatives as necessary.
6. Virtual Reality
Retailers can add value to their services by creatively using technology such as Augmented Reality (AR). For instance, a furniture retailer like IKEA allows customers to virtually place true-to-scale 3D models of IKEA products in their homes through AR.
Customers can use this mobile app to envision products in their living spaces before purchasing them, reducing the likelihood of product returns and increasing customer satisfaction.
At Guaraná Technologies, we are highly experienced AR developers. We can integrate AR into a client's product to create real-life experiences, simulate training or product experiences, or add virtual adventures to a marketing campaign.
7. ROI
Retailers can utilize a number of tools mentioned in this blog to increase their sales and ROI. For instance, with push notifications, they can increase customer engagement and gain valuable insights into user behaviour. They can also take advantage of geo-location to target users more effectively.
How To Select a Good Retail Mobile App Developer
More retailers are outsourcing their mobile app development needs instead of creating them in-house. A good agency can develop an excellent product, offer support, and help develop the right strategy. Here is how to pick the right mobile app development team for your retail organization:
Experience
Work with an experienced agency that has served businesses across various industries. They should have experience in integrating third-party APIs like payment gateways plus location-based technologies for industries similar to yours.
An experienced developer will also take security considerations. They'll ensure that your retail software is compliant with local regulations and has a secure payment processing system.
Experts
Check if your developer has the right expertise. For example, at Guaraná, we can have the skillset in programming languages and technologies to develop native apps, hybrid apps, and web apps. We can create excellent iOS and Android software for your platform's front or backend. As mentioned, we're well-versed in technologies such as AR and beacon, giving your mobile apps an edge.
Design
In addition to technical skills, your retail mobile development agency must have top design skills. With the right UI/UX (User Interface/User Experience) skills, a development team can create an intuitive and aesthetically pleasing app that attracts retail customers and improves your retention rate.
A retail app with excellent UI/UX is also more likely to offer a better user experience, usability, customer loyalty, brand perception, and more. All of these factors will enhance your market reach, customer engagement and sales numbers, translating into better revenue generation.
Portfolio
It never hurts to check your developer's portfolio. You can get a fair idea of an agency's capabilities from their previous work. You can also look up reviews and check their references.
Collaboration
Selecting a mobile app development team that collaborates with you is essential. Such a team will ensure that you're involved at different stages of the development process. Your organization's input will help create the perfect retail mobile app.
The team at Guaraná Technologies is here to answer any queries. We'll even walk you through the steps for launching a mobile app successfully in the retail industry. Whether you have any technical queries or need to understand the development process, we're here to help.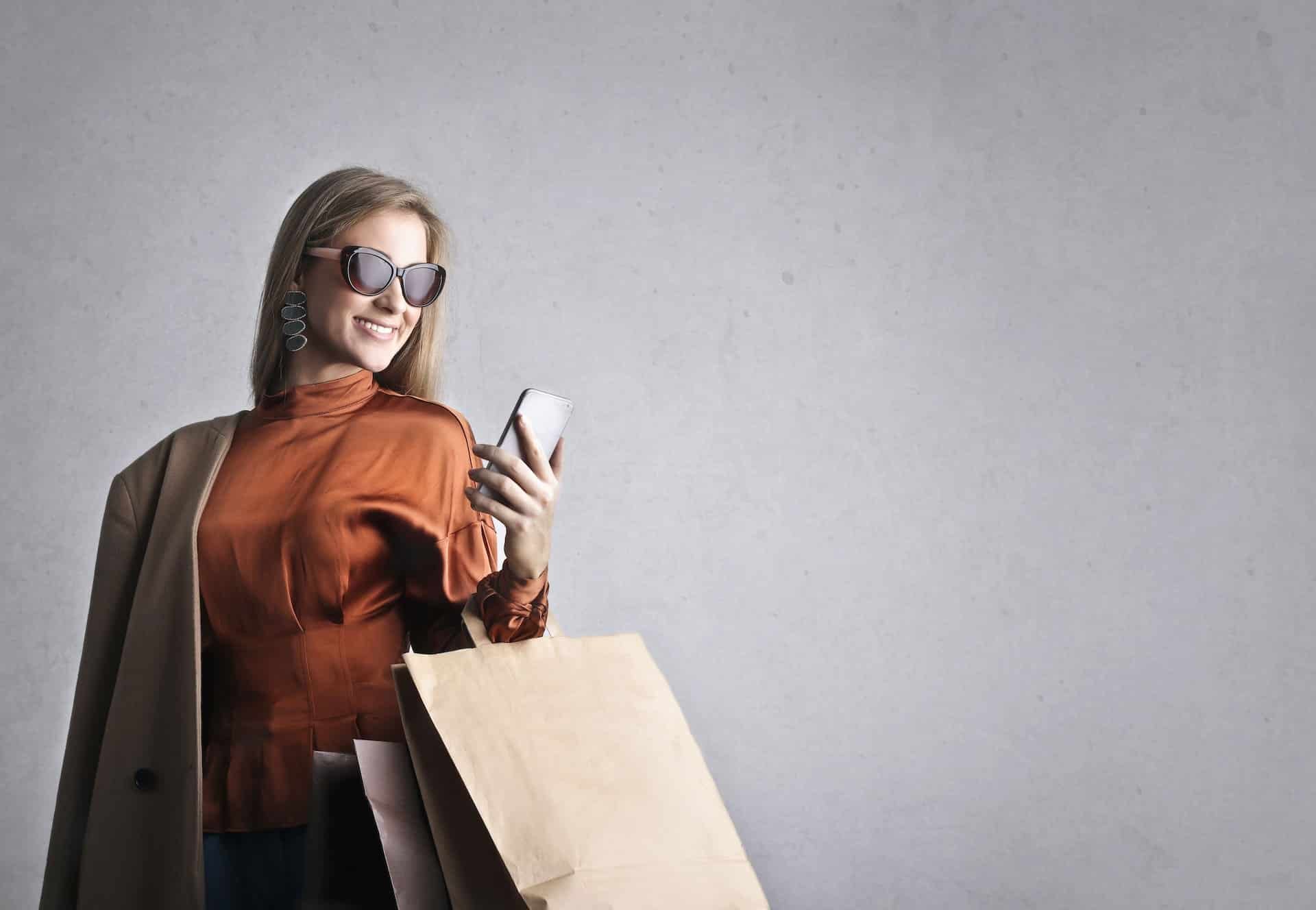 Partners - not providers.
Guaraná will act as your partner and advisor throughout the whole process. Our app development process is tailored to be collaborative and we truly embrace each one of our projects. Being a well rounded and skilled team makes us a great long-term partner for both startups and established companies.
Execution equals excellence.
We truly commit to your digital app development project's success. We're passionate about turning your web & mobile application idea into a high-performance digital product with authentic design, smooth usability and amazing engagement. We provide nothing less than the best user experience possible.
High-quality code built for business growth
Our tech team ensures we always craft the best logic for your users and your strategy. Our scalable solutions are ready to accommodate any new features you might need - when your business evolves, our code evolves with you.