Blog
Your Guide to Mobile Marketing: What is Mobile Marketing & Why is it Important?
December 27, 2022
Marketing mediums evolve with time and technology. Whereas early marketing strategies involved fliers, newspapers, and billboards, they later expanded to televisions and radios. With the proliferation of Internet connectivity and smartphones, mobile devices are the new playground for marketers.
What Is Mobile Marketing?
Here is a mobile marketing definition: mobile marketing is the process of using mobile devices like smartphones, tablets, or even smartwatches to serve advertising goals. Mobile marketing can mean marketing your business to mobile device users, typically through web apps, or it can mean targeting your app's users through in-app tools such as push notifications or baked-in advertising mechanisms.
Why Is Mobile Marketing Important?
Mobile marketing is vital because businesses simply can't afford to ignore mobile users. According to Statista, there are currently just over 7 billion mobile users across the globe. By 2025, the number is expected to hit 7.5 billion. In other words, you have billions of potential customers for your mobile marketing business model.
Please also consider that:
Mobile devices now generate more Internet traffic than desktop computers.
Mobile search rates are increasing rapidly.
Retail conversion rates on mobile devices like smartphones and tablets are behind desktops but catching up.
Mobile ecommerce is increasing and expected to accelerate over the next few years.
Roadmap
The experienced team at Guaraná Technologies can help you draft your roadmap, setting up objectives to make sure you're following your user analysis, business plans, and mobile marketing strategy.
While developing your mobile marketing scheme:
You should understand where your mobile marketing strategy stands today.
You need to have a clear vision for your mobile marketing strategy in the future.
You should explore ways to reach your mobile marketing strategy goals.
Mobile Marketing Mediums
Ensure that your marketing mediums are optimized for mobile users. For example, your website and social media pages should look perfect on different types of mobile devices with different screen sizes and resolutions.
They should also be highly discoverable through a sound Search Engine Optimization (SEO) strategy.
Please also ensure that your emails are optimized for mobile devices. Not only are mobile users more likely to open emails optimized for mobile devices, but they will also engage with them.
The Quality of Your Mobile App
One of the most important components of your mobile marketing strategy is your mobile app. A high-quality mobile app will be more effective for monetizing through mobile marketing than a substandard app. For example, if your app is glitchy, looks clunky, feels unintuitive, or barrages your users with push notifications, popups, or advertising banners, your mobile retention rate will be extremely low.
Guaraná Technologies is renowned for mobile app development in Montreal and Toronto, and other parts of Canada and the United States because of our commitment to developing excellent apps.
1. Interface
For over a decade, we have been specializing in User experience (UX) and User Interface (UI) design for clients across a broad range of industries. We create mobile apps with intuitive attention-grabbing interfaces that provide high conversions and benefits to users.
During the prototyping phase, we map out the interactions and navigation paths your software requires for your strategy. Our detailed prototyping process results in maximum engagement. Meanwhile, our UI design concentrates on creating a compelling interface that's responsive, consistent, clean, and visually appealing.
Here is how top UI/UX design benefits your mobile marketing strategy:
A quality user experience is an indispensable component to gaining user loyalty. Your more loyal users will help you generate revenue and broaden your market reach as part of your mobile marketing strategy.
Our professional team of developers will ensure that various user needs are optimized for maximum revenue generation.
2. Stability
As mentioned, app stability is essential for a good mobile marketing strategy. A buggy app will have poor user retention. Whether you're interested in Android or iOS solutions — or both, we strive to deliver stable software.
Our apps integrate functional testing to reduce the risk of bugs and crashes.
We utilize analytic tools to isolate and eliminate imperfections until your app is silky smooth.
The valuable feedback from our internal testers enhances app stability.
We support your app post-launch with regular upkeep, so it's running continuously and your mobile marketing strategy is engaged.
3. Scalability
An effective mobile marketing strategy requires your app to be scalable. With scalable solutions, you can incorporate new features as your startup or enterprise evolves. Rest assured that our team will ensure that your app code evolves with you to suit your needs.
App Store Optimization
Over 80% of all apps in the marketplace fail to hit 500 downloads. For investors of such apps, their mobile marketing strategy fails before it has started. An excellent way to counter this is to optimize keywords to help your software rank higher in an essential process called App Store Optimization (ASO).
Feel free to get in touch with Guaraná Technologies to learn how you can increase your downloads, app retention, and user ratings to boost your ASO and improve your user base for your mobile marketing strategy.
Deep linking
Deep linking is a critical component of your mobile marketing strategy. It is the process of subtly and cleverly redirecting users to specific content. Mediums for effective deep linking include push notifications, SMS, email, and messaging.
Standard deep linking is the most common type of deep linking and requires users to have the application installed on their mobile devices. Meanwhile, deferred deep linking is the process of sending users to the installation page of the application if they don't have the app.
Contextual deep linking is similar to deferred deep linking but also involves data collection and customized links. You can think of it as a more intimate form of deferred deep liking.
Deep linking extends many benefits to your mobile marketing strategy. According to Yeeply, effective deep links can increase your conversation rate by 40%.
Deep linking can also:
Enhance user experience and offer users convenience.
Improve data collection for better design decisions.
Raise retention rate.
Gather intelligence on the effectiveness of marketing strategies.
Mobile Ad Examples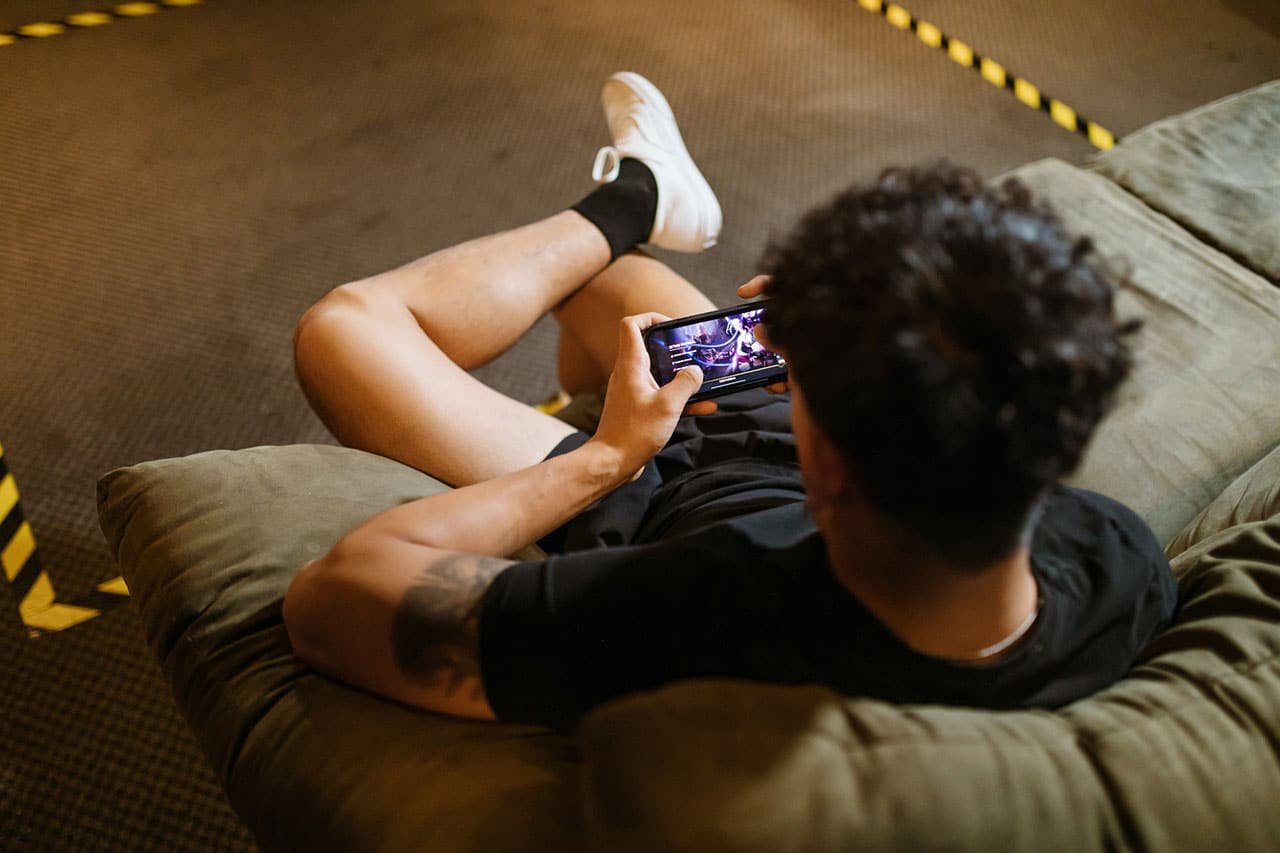 1. Banner Mobile Ads
Banner ads are the most common mobile marketing tools. These rectangular graphics can be embedded directly in your mobile app or a web app. Although simple, banner ads are quite effective.
2. Video Mobile Ads
Video ads are certainly more complex than banner ads. They must be crafted carefully to convert your users. Nowadays, the most effective video ads are short, simple, creative, and end with a call-to-action. They can also be humorous and capitalize on the latest trends.
3. Interstitial Mobile Ads
Interstitial Mobile Ads are full-page ads that appear between mobile app navigation as natural transitional points. With the right development, these ads can grab attention and help generate revenue.
4. Interactive Mobile Ads
Interactive mobile ads are multimedia ads that offer minor functions to gain the interest of users. Such ads are typically short and a demonstration of a product like a mobile game.
5. Mobile In-Game Ads
Mobile game ads show up during the gameplay of mobile games. The most effective mobile game ads are integrated seamlessly and can be important to the gameplay. The least effective ads interrupt the gaming experience and frustrate users.
6. Native App Ads
Native apps are apps specifically designed from the ground up for a mobile operating system like Android or iOS. Native apps can utilize a device's hardware and feel more familiar to users of that operating system. Similarly, native app ads can appear more seamless than other types of mobile ads and may gain more engagement.
Push Notifications
Push notifications are messages from mobile apps that can pop up even when the app is not active. Developers can leverage these notifications for different purposes, including mobile marketing. The most effective push notifications that offer promotions are triggered by specific app events and user actions.
They're also sparingly deployed, create urgency, create interest, and offer personalized suggestions. On the other hand, push notifications that are blasted without context at random times of the day, or use clickbait, are not as effective for mobile marketing.
Location-Based Advertising
Location-based marketing shows ads to users based on their location or a business's location. Advertisers track the location of mobile devices and only drop targeted ads in a certain area. Businesses, for example, may target users within the area for specific deals.
Top Mobile Marketing Practices
Mobile app users can easily uninstall apps, disable notifications, or choose other ways to disengage with your mobile marketing campaign. An excellent mobile marketing strategy should be subtle, targeted, and clear.
Your ads should also be optimized for mobile device screens — unlike desktop computers or laptops, mobile phones have limited screen real estate. So, advertising text must be minimal, to the point, and utilize graphics where necessary.
Don't be afraid to try different techniques. Use your analytics tools to gauge what strategies are most effective and what approaches need retooling.
Partners - not providers.
Guaraná will act as your partner and advisor throughout the whole process. Our app development process is tailored to be collaborative and we truly embrace each one of our projects. Being a well rounded and skilled team makes us a great long-term partner for both startups and established companies.
Execution equals excellence.
We truly commit to your digital app development project's success. We're passionate about turning your web & mobile application idea into a high-performance digital product with authentic design, smooth usability and amazing engagement. We provide nothing less than the best user experience possible.
High-quality code built for business growth
Our tech team ensures we always craft the best logic for your users and your strategy. Our scalable solutions are ready to accommodate any new features you might need - when your business evolves, our code evolves with you.